Best U.S. Fall and Halloween Activities for Dogs
What's not to love about fall? From taking long walks through the beautiful foliage to trick-or-treating for some tasty snacks, there's something for every dog and pet parent to enjoy. In fact, the United States is full of dog-friendly autumn attractions and events that will get you and your Cadet into the harvest spirit. No matter what region of the country you live in, here are our favorite fall and Halloween activities for dogs!
Dog-friendly 5K Races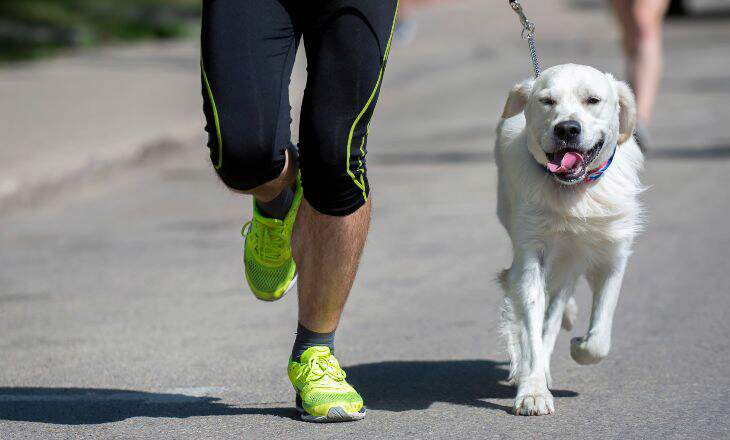 In addition to the season's scenic beauty, the cooler autumn temperatures are perfect for exercising outside with your dog. A creative way to do this is to participate in a dog-friendly 5K! You can promote you and your furry friend's health, get out for an adventurous day, and support a good cause. After the race, be sure to reward your pal with some premium dog treats and refuel yourself with a crisp fall apple or a pumpkin baked good. It's a win-win.
If you prefer to walk rather than run with your pet, don't worry. You can walk any of the dog-friendly 5K races listed below instead.
Virginia Beach SPCA Mutt Masquerade (Virginia Beach, VA): This is the largest dog-friendly 5K in coastal Virginia. You can dress up in a Halloween costume with your Cadet and enjoy the prizes and food trucks. There will also be the opportunity to adopt dogs who are looking for homes. The proceeds will go to the Virginia Beach Society for the Prevention of Cruelty to Animals (SPCA). Get the details
Rhodes Race at the Haunted Castle 5K (Atlanta, GA): This race takes place in a quaint neighborhood in Atlanta along a trail of eerie twists and turns. You and your four-legged friend can wear costumes, and for those who dare, there is an optional tour of the supposed Haunted House, the "Castle on Peach Tree." Dogs should be leashed or in a stroller and the money raised will go to The Georgia Trust for Historic Prevention. Get the details
5th Annual Yuba Dog Run 5K (Yuba State Park, UT): If you could think of the most ideal landscape, an image of Yuba State Park would probably come to mind. Both you and your dog can enjoy the view of the boundless reservoir and surrounding, mountainous terrain while getting a workout in along the trail. Food and drinks, awards, and dog treats will be available after the race. Leashed dogs are welcome. Get the details
7th Annual Mutt Run Halloween 1K/5K Run/Walk (San Diego, California): Along with the run/walk, costumes are a main attraction of this event, so you can really embrace this autumn tradition and dress up as your favorite duo with your pet. All the benefits of this Mutt Run go to the California Labs and More Rescue Foundation. Get the details
Attend a Local Dog Trick-or-Treat Event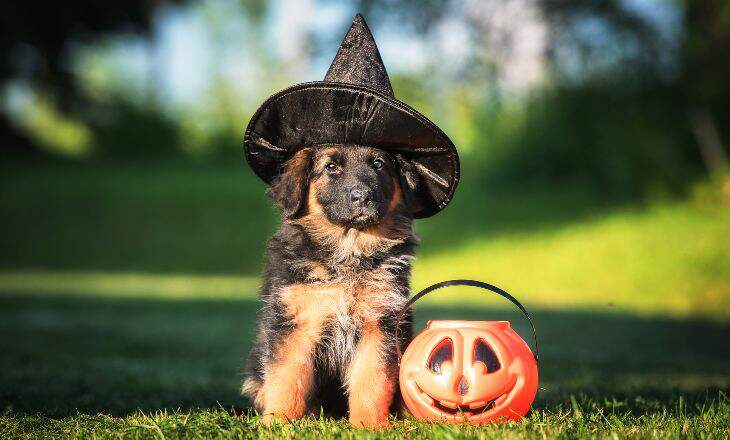 What better way to include your best friend in the Halloween fun than by trick-or-treating together? A variety of towns host dog-friendly trick-or-treating events where dogs and pet parents can relish one of America's most popular holidays. Give your furry friend fall-themed snacks like our Gourmet Chicken & Apple Wraps as you celebrate these Halloween activities for dogs!
Bow Wow Trick or Treat Festival (Granbury, Texas): Grab your dog some tasty treats at Granbury's annual Halloween festival held on the last Saturday in October. If you're thinking about bringing a new furry friend into your family, you can also browse a variety of onsite pet adoption opportunities. Learn more
Bark at the Moon (Lincoln, Nebraska): Enjoy a costume contest with professional photos, door prizes, goody bags to fill with dog treats, and more great surprises. This party occurs on the Sunday before Halloween. Learn more
Bark-or-Treat Trail (Philadelphia, Pennsylvania): Stroll through Philadelphia's historic Franklin Square with your dog as you follow a trail of treats through the city. Save the date—this event takes place on the last Sunday in October! Learn more
Frosted Faces Foundation Halloween Party (Ramona, California): Take your costumed dog out and enjoy treats, a bonfire, and a spooky Halloween movie on the last Saturday in October. Learn more
Celebrate Oktoberfest with Your Dog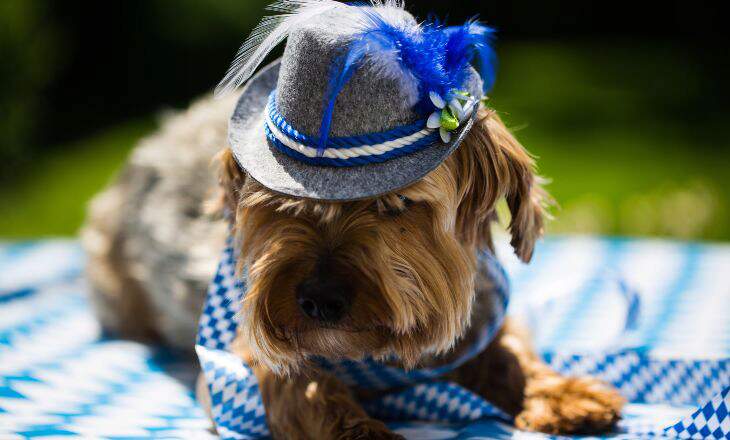 Fall just wouldn't be complete without this German tradition! Dog-friendly Oktoberfest events are excellent opportunities to meet fellow furry friends and pet parents, watch a wiener dog race, and take some memorable photos. If your dog loves to be near the action, Oktoberfest celebrations like the ones below are sure to please. Keep an eye out for flavorful dog-friendly delicacies!
Arizona Animal Welfare League & SPCA Oktoberfest (Phoenix, Arizona): This dog-friendly event is held on the third Sunday in October and features authentic German cuisine, live music, a raffle, and more. Plus, 100% of proceeds benefit animals needing homes. Visit website
Hunter Mountain Oktoberfest (Hunter, New York): Hunter Mountain is touted as one of USA Today's best Oktoberfest celebrations in the United States and lasts 4 weekends from late September to mid-October. You can bring your dog to the outdoor portion of this event as long as they're on a leash that's no more than 6 feet long. Visit website
Helen Oktoberfest (Helen, Georgia): From early September to late October, treat yourself to German-style bands, brats, beer, and a parade as you dance to polka music. Dogs are welcome in the biergarten. Visit website
Oktoberfest USA (La Crosse, Wisconsin): Enjoy the biergarten and parades with fellow lederhosen-wearing friends! Oktoberfest USA runs through the last weekend in September and allows one dog per person on a leash no longer than 6 feet. Visit website
La Mesa Oktoberfest (La Mesa, California): This event's Dackeldorf Dachshund Village lets pups participate in dog-friendly activities including a wiener dog race, dog fashion show, and "howl-deling" contest where your dog can show off their special talent! Visit any time during the first weekend in October. Visit website
Go Hiking with Your Dog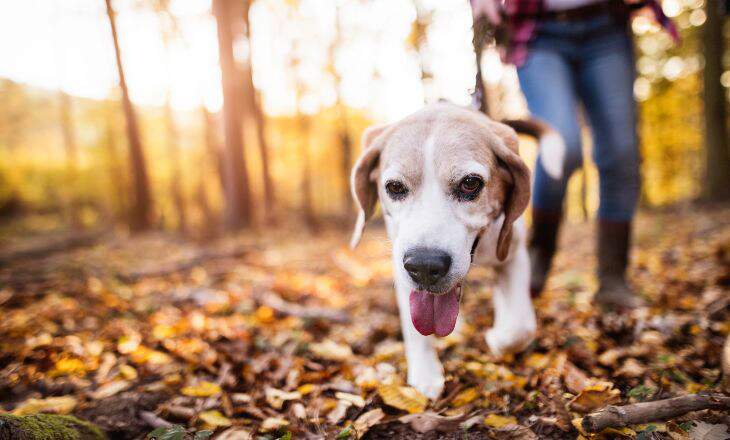 Here at Cadet, our appreciation for dog-friendly hiking trails is no secret. Hiking in the fall will fully immerse you and your dog in the autumn atmosphere, providing breathtaking views of the crisp leaves as they change color. Plus, you will both appreciate the cooler, more comfortable weather as you spend some quality bonding time together. Here are some exceptional trails to hit on your fall #CadetAdventure.
Franconia Notch State Park (Lincoln, New Hampshire): This 8-mile stretch offers some of the best mountain and foliage views in White Mountain National Forest. The park welcomes dogs on hiking trails as long as they're leashed and their waste is removed. Read more
Whiteoak Canyon Trail (Robertson, Virginia): Six waterfalls and rugged trail routes ranging from 2 miles to 7.3 miles define this section of Shenandoah National Park. Dogs are allowed on leashes no more than 6 feet long. Read more
The Maroon Bells (Aspen, Colorado): The Maroon Bells mountains offer incredible views of aspen trees with their lovely autumn leaves and striking wildflowers. Leash your dog before setting out for any of the site's numerous hiking routes. Read more
Rim Trail (Grand Canyon Village, Arizona): Excellent for beginners and experienced hikers alike, this 12-mile route is home to many of the Grand Canyon's awe-inspiring sights. Leash your dog before heading to the trail. Read more
Superior Hiking Trail (Northeast Minnesota): Ideal for the most determined hikers, this mammoth trail runs more than 310 miles along Lake Superior with peaceful waterfalls and woodsy overlooks. The trail requires all dogs to be leashed. Read more
Head to a Dog-Friendly Pumpkin Patch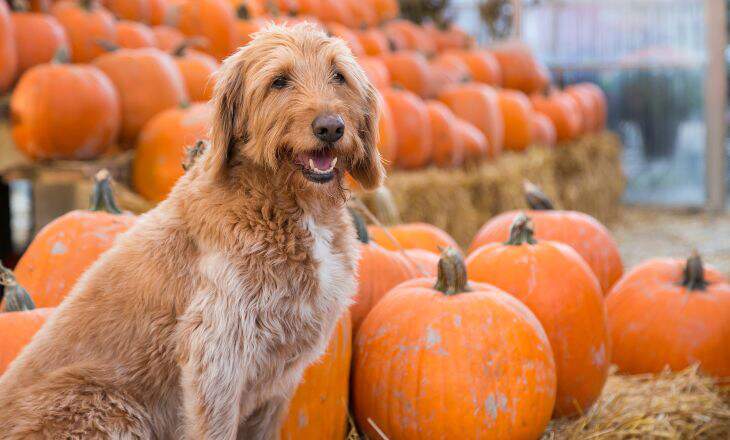 This quintessential fall tradition is fun for the whole family—including your best friend! Take your dog along as you look for the perfect home decorations and enjoy the fresh autumn air. Many farms even offer a variety of dog-friendly activities ranging from corn mazes to fun play areas. These pumpkin patches will provide you and your dog plenty of social-worthy photo ops.
Biringer's Black Crow Pumpkins & Corn Maze (Arlington, Washington): Visit this refreshing patch for a day of pumpkin, squash, and gourd picking. Your dog will love helping you find your way through the challenging corn maze! Visit online
Fishkill Farms (Hopewell Junction, New York): Enjoy cider donuts and coffee made fresh daily at the farm store. Certain areas of the farm are open to dogs, such as the orchard roads and grass behind the farm store. Just make sure your furry friend is on a leash! Visit online
The Great Pumpkin Patch (Arthur, Illinois): With more than 300 varieties of pumpkins, squash, and gourds available, this farm has plenty of quality festive decorations to choose from. Good-natured dogs are allowed to accompany their pet parents as long as they're leashed. Visit online
Hickory Ridge Farm (Chesapeake, Virginia): This attraction offers hayrides, pony rides, bounce houses, and more fun activities. Leashed dogs are welcome, but should be kept a safe distance from the pony area. Visit online
Rock Creek Farm (Broomfield, Colorado): Rock Creek Farm features over 6 miles of corn mazes and a large pumpkin patch that will get you into the fall spirit. Leash your dog before heading out and be sure to give the farm animals their space! Visit online
No matter how you and your Cadet celebrate these dog-friendly activities, keep a close eye on your dog at all times and check them for ticks after spending time outside. Here's to a happy and safe fall!