9 Best Hiking Dogs of All Sizes
Our furry friends are natural-born explorers! Hiking is a physically and mentally demanding activity, and certain dog breeds thrive with that type of challenge. Whether you are going out for a day trip or plan on going camping with your dog, here are nine of the best hiking dog breeds (big and small) that will make the perfect companion for your next hiking adventure.
Large Hiking Breeds
1. Bernese Mountain Dog
A Bernese Mountain Dog may look like a bear from a distance, but don't be fooled; one of these big, friendly giants may be your new hiking buddy! Originating from the cold Swiss Mountains, Bernese Mountain Dogs prefer to be outdoors and can adapt to journeys in any weather.
2. Siberian Husky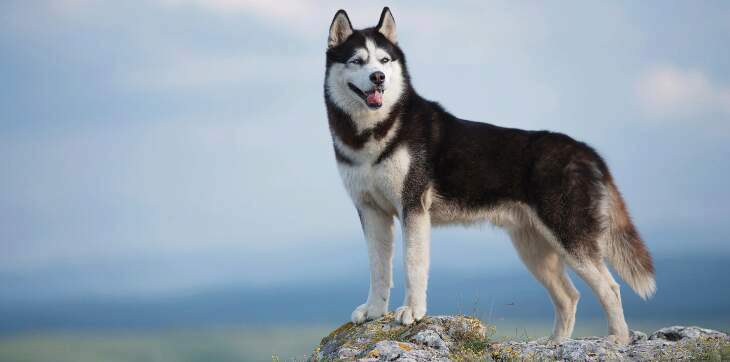 As one of the most common dogs that look like wolves, the Siberian Husky has been bred to run tirelessly for long distances in front of a sled. These outgoing, active dogs are curious creatures who are fearless when it comes to new activities. Huskies are comfortable in snowy terrain and on rocky trails, and they have even been known to happily jump into a dog-friendly lake to cool down their thick coat.
3. Labrador Retriever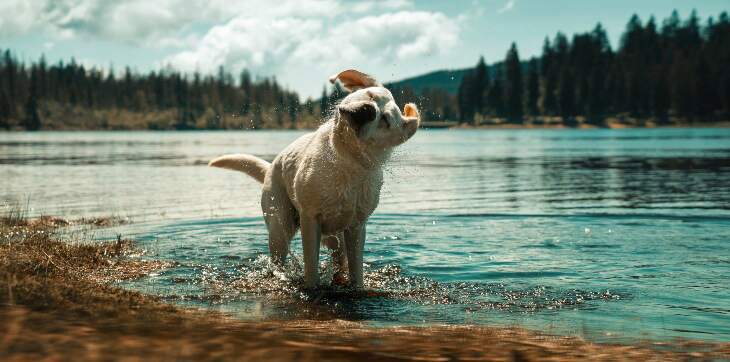 You can expect a Labrador Retriever to stay sensible, even-tempered, and ready to walk for hours on the trail—making them excellent hiking partners! As their name suggests, retrievers live for a game of fetch. Plus, they are major water lovers! Therefore, choosing a hike that leads to a body of water is ideal for this Cadet. Some of our favorite dog-friendly hiking trails are great spots to discover a variety of terrains.
Medium Hiking Breeds
4. Australian Shepherd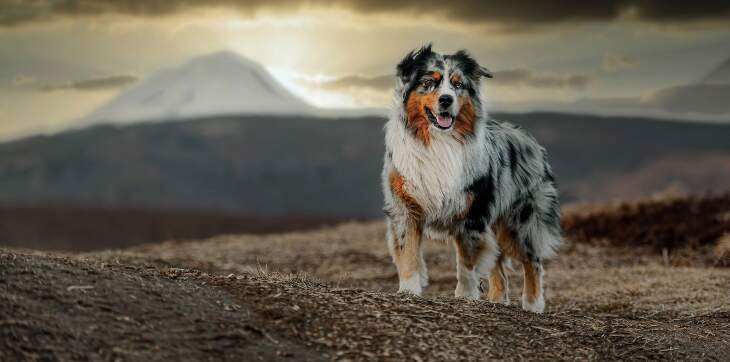 The Australian Shepherd is the winning combination of intelligence, ability, and personality. They make excellent hiking dogs, as they excel in agility and obedience during long hours of demanding activity. Australian Shepherds are friendly and make for happy wanderers when you encounter other hikers and their four-legged friends.
5. Border Collie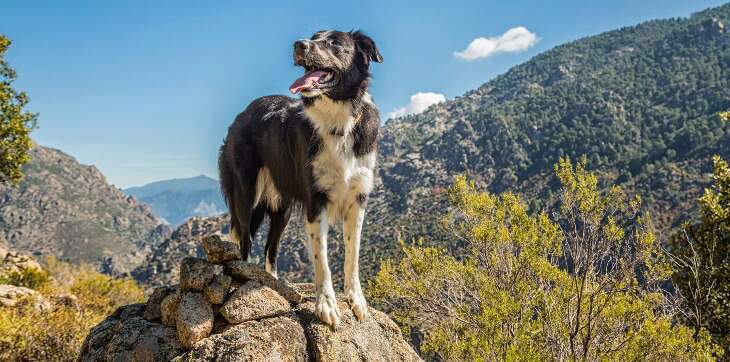 Trail running is a fast-growing sport for people who enjoy exercising in nature. With a high level of speed and intelligence, the Border Collie is a great dog for runners. Border Collies also require mental stimulation, so hiking (or running) on moderate trails with diverse terrain can be an excellent outlet for them to burn off some energy.
6. German Shorthaired Pointer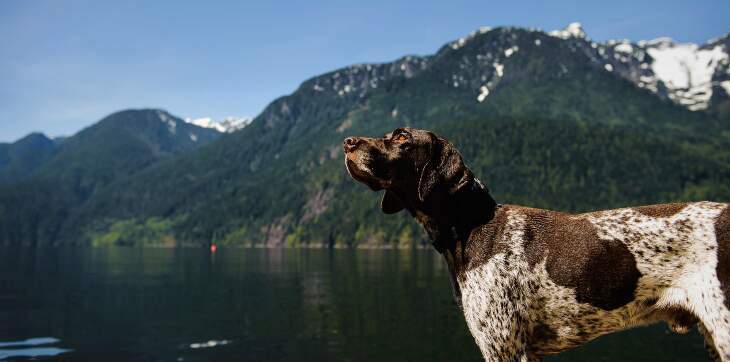 The German Shorthaired Pointer is full of enthusiasm and energy! These active companions love exercise and need as much of it as they can get. This makes them the best hiking dogs for longer outings where they can spend hours running around vast fields or even diving into ponds. The German Shorthaired Pointer's personality and excitement for the outdoors is contagious, which makes them a great trail buddy.
Small Hiking Breeds
7. Beagle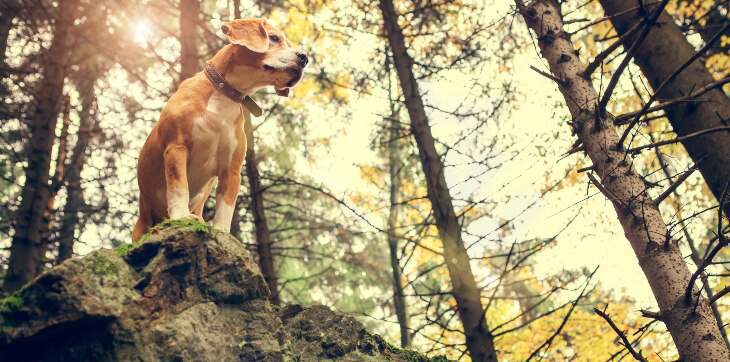 Never judge a dog's athletic ability by its size. Beagles are great hikers because of their confidence and prized ability to find and stay on the trail. They have a strong sense of smell, so you may even notice your furry hiking partner picking up some unique scents during your adventure. Beagles are known for their big appetites, so be sure to give them lots of water and a tasty, healthy dog treat as a reward after the hike.
8. Cairn Terrier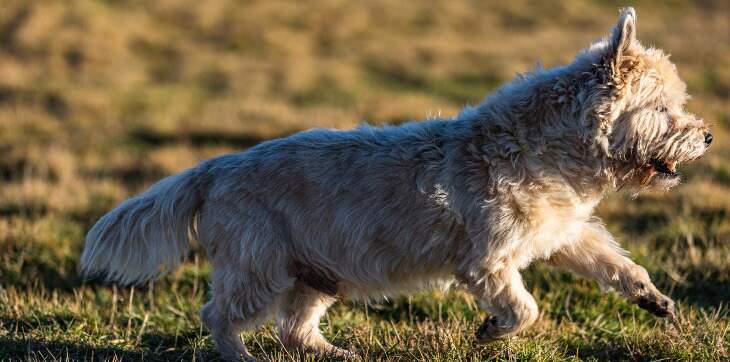 The Cairn Terrier might be a less obvious choice when you think of the best hiking dogs. However, they love to investigate the world. Their wiry outercoat and downy undercoat were intended to protect them from the harsh and unpredictable weather and environment of northern Scotland, where Cairn Terriers originate. They are also known to be active into their teens, which makes this Cadet a great hiking buddy to have by your side for years.
9. Jack Russell Terrier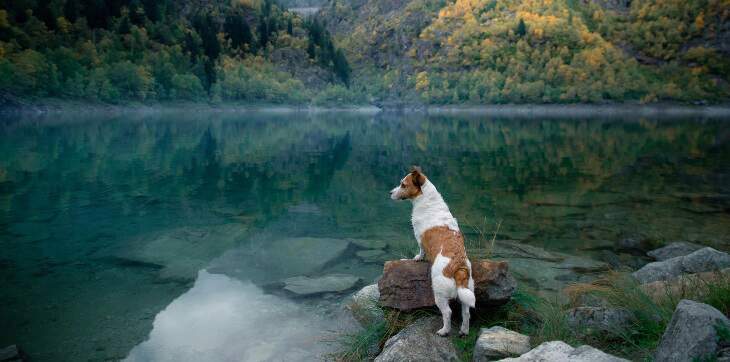 The Jack Russell Terrier may come in a small frame, but this dog is both energetic and enduring. They possess a natural hunting instinct, so do not be surprised if they sniff down every corner and explore around every fallen branch. The Jack Russell Terrier's fearless attitude makes them the best hiking dog for someone who shares their zest for the wilderness.
Related: 4 Ways to Preserve Nature While Hiking with Your Dog
Adventure Calls!
Hiking with dogs is a great way to bond and appreciate nature together. Like any activity, safety should always be the main priority. Check out a few of these tips before hitting the trail with your Cadet. Soon you'll be ready to take on adventures that are sure to get your buddy's tail wagging—and heart racing—in the best way!