10 Amazing Dog-Friendly Lakes in the U.S.
Whether you're camping with your dog or road tripping together, going for a dip offers a fun, refreshing way to connect with nature. There's bound to be a great lake—and in some cases, an actual Great Lake—no matter which direction you're heading. In fact, the United States has the third-highest number of lakes of any country in the world, according to World Atlas! From legendary landmarks to lesser-known gems, here are some of the best dog-friendly lakes in the U.S.
1. Lake George (New York)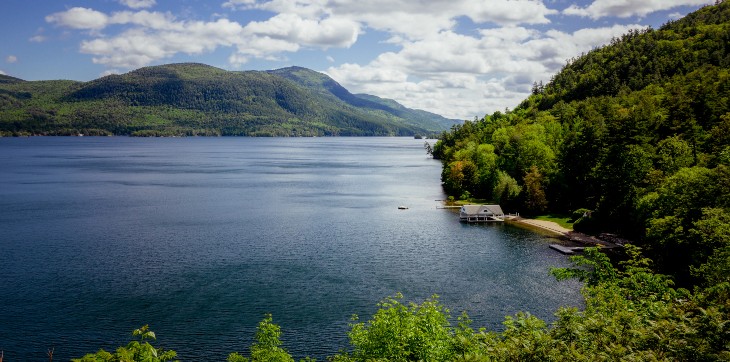 This Upstate New York body of water is one of the country's most famous lakes—and for good reason! Lake George lies at the base of the majestic Adirondack Mountains and stretches for 32 miles, earning the nickname "Queen of American Lakes." Known simply as Dog Beach, the site's pet-friendly water play area is safe for swimming and welcomes dogs of all ages. Pups are also allowed at a variety of campsites and local hotels, giving you and your Cadet more ways to enjoy this national treasure.
2. Lake Oconee (Georgia)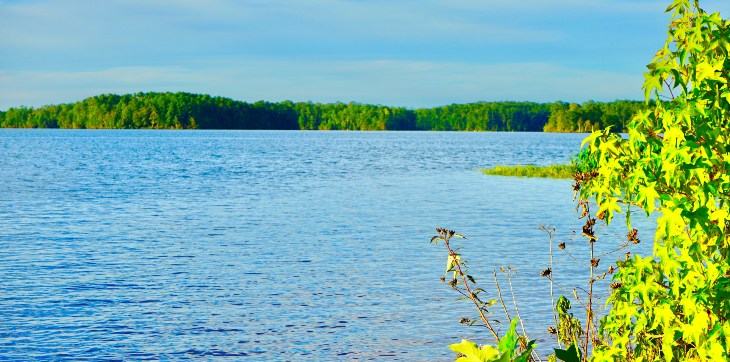 Located in scenic central Georgia, Lake Oconee offers a splash of southern charm you and your dog will cherish. This manmade reservoir has a reputation for excellent fishing opportunities and golf courses, and the nearby town of Greensboro is the ideal spot to enjoy a leisurely walk with your pup. Dogs are allowed to swim in the lake, ride on boats, and accompany you at a number of campsites—the adventure is yours to choose!
3. Lake Washington (Washington)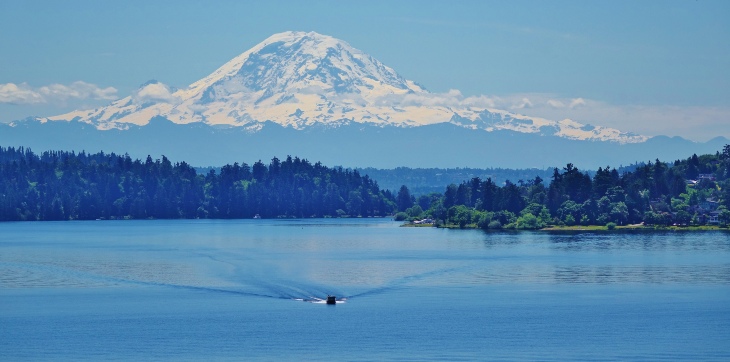 Why choose between lakeside serenity and big city excitement when you can have both? Lake Washington is sandwiched between Seattle & Bellevue and offers stunning mountain views that are quintessential to a Pacific Northwest trip. This dog-friendly lake includes an off-leash area on the shoreline, allowing your four-legged friend to splash around to their heart's content. The fun doesn't have to stop when you and your pup get out of the water, as nearby Seattle is peppered with dog-friendly restaurants and activities.
4. Lake Michigan (Wisconsin, Illinois, Indiana, and Michigan)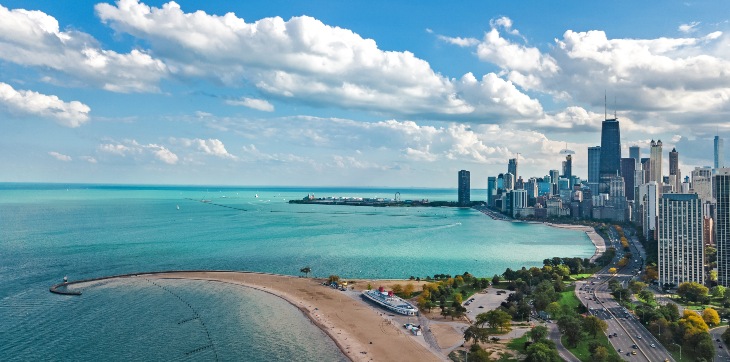 By far the largest body of water on our list, Lake Michigan spans more than 22,000 square miles! It's another great spot for two- and four-legged travelers seeking a great balance between nature and city, bordering Chicago and Milwaukee on its southern and western shorelines. Lake Michigan is home to many dog-friendly beaches, including Bear Dunes National Lakeshore off the coast of Michigan and Montrose Beach in Chicago. Each beach has its own pet policy, so be sure to read the rules before heading out.
5. White Rock Lake (Texas)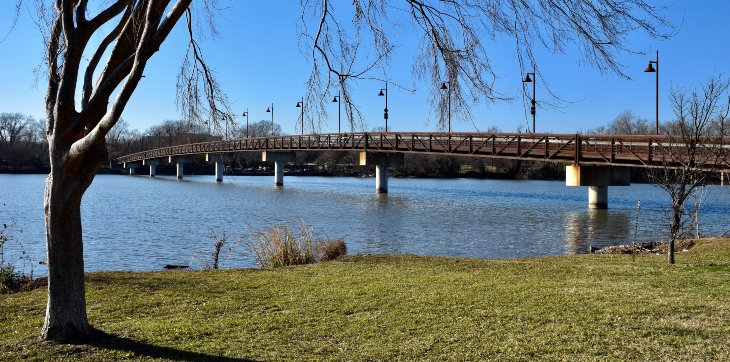 Dallas's White Rock Lake is a good pick for dogs and pet parents looking for a smaller, cozier experience. Nestled among wildflowers, the area's three-acre White Rock Lake Dog Park provides water access and plenty of places to romp. You'll get great lakeside views all the while from this off-leash park, and the lake for dogs is also a great spot for bird watching! Just be aware that the park is closed on Mondays for weekly maintenance.
6. Lake Tahoe (California and Nevada)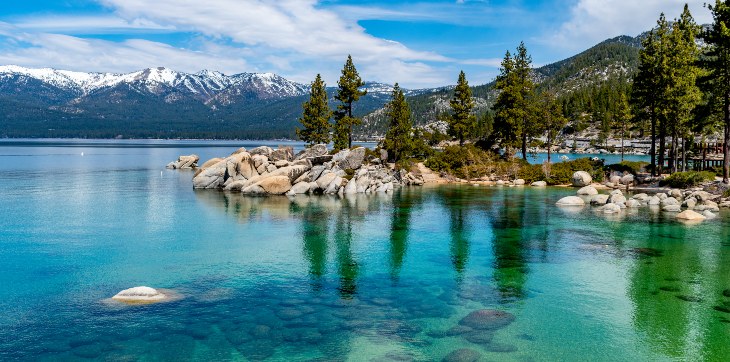 Lake Tahoe is famous for its serene beaches and majestic alpine views, surrounded by the Sierra Nevada mountains. The massive lake houses many dog-friendly locations, including the off-leash Kiva Beach in California and camping-friendly Zephyr Cove in Nevada. Plus, you can find dog-friendly hiking trails all around the lake for a change of pace. Certain parts of Lake Tahoe are within driving distance of Sacramento and Reno if you and your dog are up for an urban excursion!
7. Table Rock Lake (Missouri)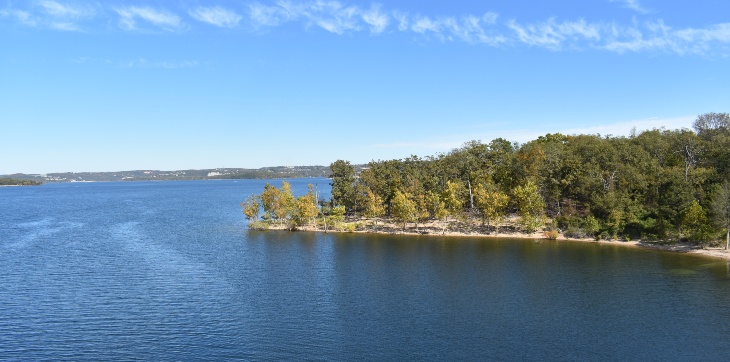 Another fun spot for Cadets who swim and hike, Table Rock Lake includes an array of dog-friendly trails. This body of water near Branson, Missouri is part of the larger Table Rock State Park and encompasses more than 800 miles of shoreline. Exotic birds like osprey, bald eagles, and loons grace the park's skies while oak and hickory trees surround the water. Dogs are allowed in the lake except where noted, and they can also accompany you on a kayak or pontoon. Just make sure you know how to safely take a dog on a boat.
8. Boyd Lake (Colorado)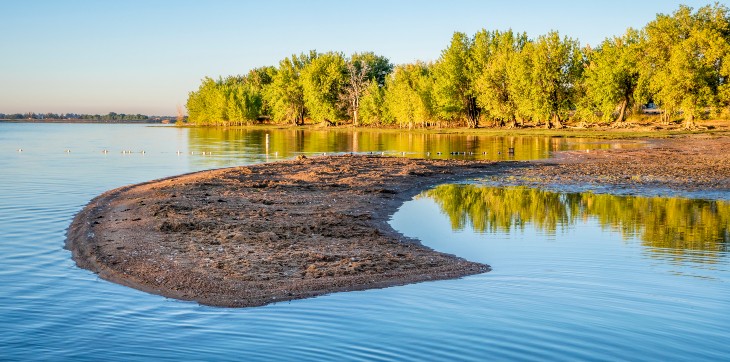 If you and your dog are major adventure seekers, Boyd Lake near Loveland, Colorado is a can't-miss destination. Hikes, fishing excursions, campsites, and even some water sports can be found throughout this state park—and dogs are welcome to join any of these activities! Just make sure they're leashed at all times while you visit this lake for dogs and avoid taking them to the swim beach, which prohibits pets.
9. Flathead Lake (Montana)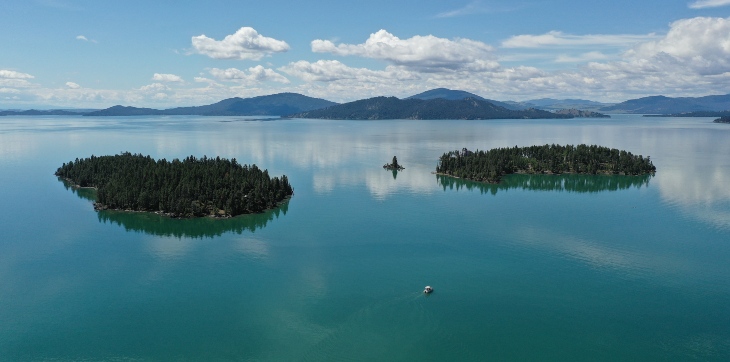 Montana's Flathead Lake is less than an hour away from the expansive Glacier National Park in northwestern Montana, and it rivals the park's natural beauty with its views of the Salish Mountains and variety of graceful trout species. If you're looking for more dog-friendly activities, the lake boasts plenty of hiking trails and boat rentals to further explore Big Sky Country. While dogs are mostly allowed in the water, pets are restricted in some areas; check the rules for the section of the lake you're visiting before diving in.
Related: Best Dog-Friendly National Parks of Every Terrain
10. Deep Creek Lake (Maryland)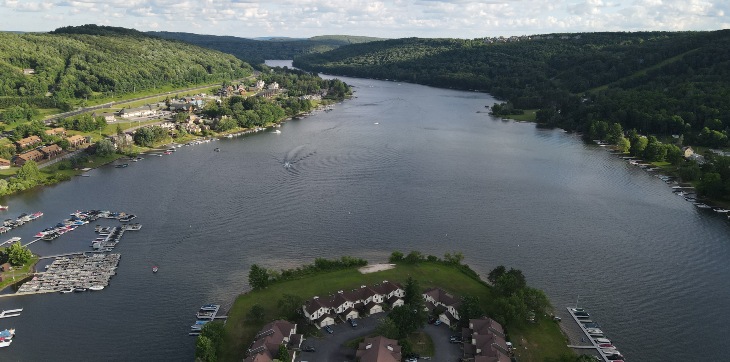 The activities you and your pup can experience at Deep Creek Lake depend on when you go! The lake lies among the Appalachian Mountains in western Maryland, and this mountainous climate results in very distinct seasons. Visitors can enjoy swimming and boating in the summertime, while dog-friendly ski resorts make for a one-of-a-kind winter thrill. Your four-legged friend can swim in most parts of the lake, and they're also invited to join you at Swallow Falls State Park—Maryland's tallest free-falling waterfall!
Lots of Lakes to Like!
The dog-friendly lakes in the U.S. are as unique and stunning as the terrains that surround them. Whether you and your Cadet prefer to kick back and relax near the water or jump in and take the adventure to a new level, these lakes have something for every kind of visitor. Make sure you review your destination's specific policies and guidelines before leaving home to learn about on-leash rules, areas where pets may be prohibited, tips for preserving nature with your dog, and more. Don't forget to pack some delicious dog treats to reward your pup during a day at the lake!