Best Dog-Friendly National Parks of Every Terrain
Adventure awaits at America's national parks! Whether you and your furry friend want to conquer a mountain range or prefer a soothing woodsy hike, there are trails from coast to coast that welcome two- and four-legged travelers. In fact, several dog-friendly national parks offer nearly every type of terrain!
Before you go hiking with your dog, it's important to know the park rules. National parks abide by a system of pet guidelines called B.A.R.K. principles:
Bag your pet's waste
Always leash your pet
Respect wildlife
Know where you can go
In addition to these principles, every national park has its own pet policies regarding leash requirements, restricted areas, and more. Research your park's specific rules before heading out.
Best Dog-Friendly National Parks with Mountains
Are you and your dog feeling bold? Many national parks include sections of mountain ranges that will provide some excellent workouts (and awesome photo ops!). Learn more about these rugged, dog-friendly favorites.
Yosemite National Park (California)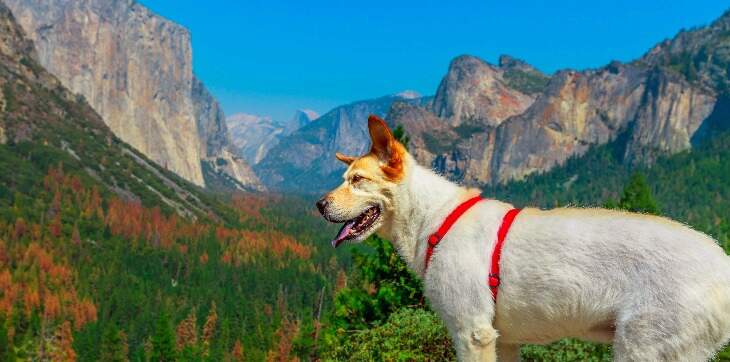 Not only is Yosemite National Park one of the most popular parks in the country, but it is also one of the largest. This massive space in eastern central California's Sierra Mountains covers about 1,200 square miles and boasts stunning peaks, lush valleys, graceful waterfalls, and gargantuan sequoia trees.
Dogs are permitted in developed areas, campgrounds, and fully paved areas (except where noted on signs). Although Yosemite offers peaks topping out at over 13,000 feet elevation, you and your pup can stick in dog-friendly areas to see a breathtaking array of Yosemite's iconic spots, such as Half Dome, Yosemite Falls, and El Capitan.
Great Smoky Mountains National Park (Tennessee and North Carolina)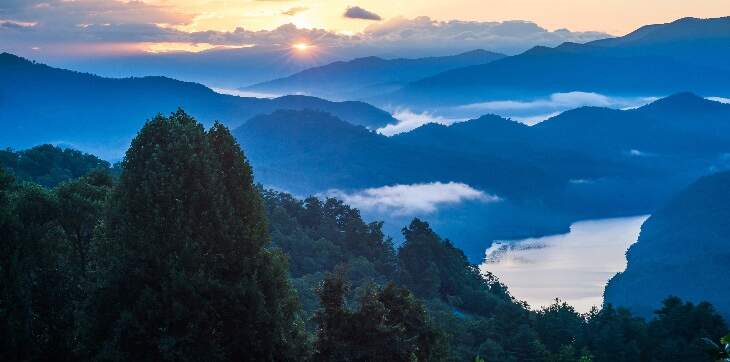 Forming part of the border between Tennessee and North Carolina, Great Smoky Mountains National Park is famous for its majestic mountain peaks and varied wildlife. In fact, more than 200 varieties of birds and 65 mammal species are protected there, according to the National Park Service.
You can take your dog to campgrounds, picnic areas, and roads to watch the scenery (including the morning fog from which the Smoky Mountains get their name). Pets are not allowed on dirt trails, so it's important to learn the lay of the land before you leave home.
Related: 4 Ways to Preserve Nature While Hiking with Your Dog
Wrangell-St. Elias National Park and Preserve (Alaska)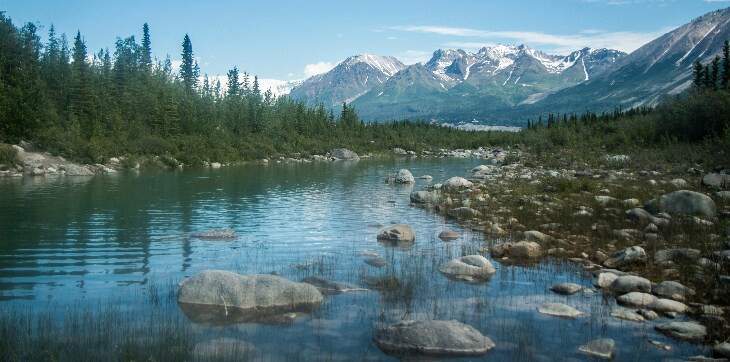 Not one, not two, not three, but four mountain ranges come together at Wrangell-St. Elias National Park and Preserve in south central Alaska. At more than 20,000 square miles in size, it takes up roughly the same space as Yellowstone National Park, Yosemite National Park, and the nation of Switzerland combined, according to the National Park Service.
You and your dog can hike together on trails and in the backcountry, where you will see volcanoes, glaciers, rivers, and other wildly diverse landscape. Just be sure to keep an especially watchful eye on your furry friend, as trapping is a common activity in this park.
Best Forested Dog-Friendly National Parks
If you and your dog love hiking under the cover of tall trees and exploring the wilderness, you have lots of serene national parks to choose from. Check out these parks offering bountiful forests.
Acadia National Park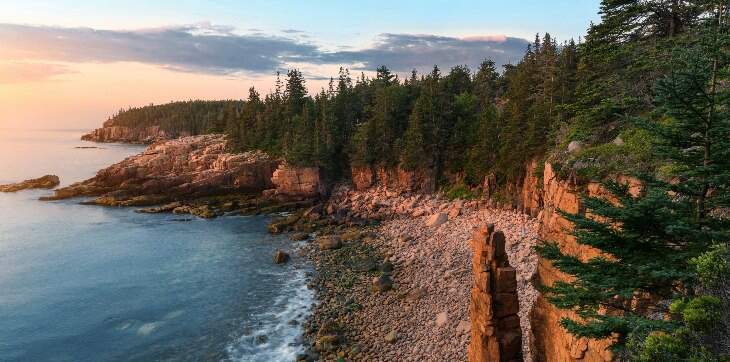 Cobble beaches, scenic woodlands, and granite domes solidify Acadia National Park as one of the most diverse dog-friendly vacation destinations on the East Coast. Dogs are welcome to explore about 100 of the 158 trail miles within this Maine park, and most of Acadia's campgrounds are open to pets.
If your furry friend loves to swim, their opportunities are limited; dogs are only permitted at swimming beaches May 15th through September 15th, and most lakes are off-limits to dogs and humans. If you need to cool off, find a shady spot and stop for a snack break!
Cuyahoga Valley National Park (Ohio)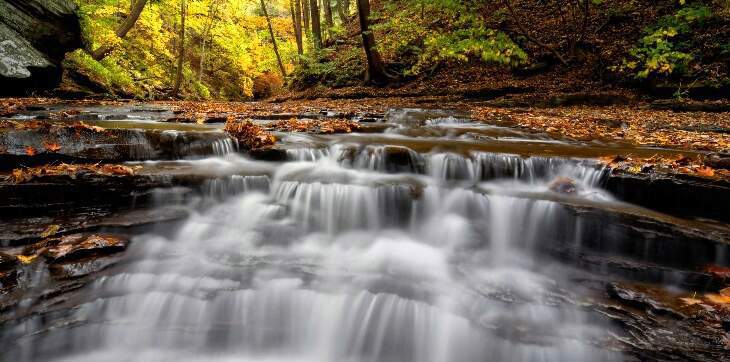 Running along the Cuyahoga River in northeast Ohio, Cuyahoga Valley National Park is home to tremendous rolling hills and dense forests. It offers more than 100 miles of trails that are open to dogs, providing an excellent variety of landscapes that you and your Cadet are sure to love.
Some popular dog-friendly hiking trails include the Towpath Trail, Oak Hill Trail, Pine Grove Trail, and Cross Country Trail, all of which are under three miles. Looking for something a bit longer? Cuyahoga's 7.1-mile Buckeye Trail is a steep, hilly route with dirt and gravel for some added variety.
Congaree National Park (South Carolina)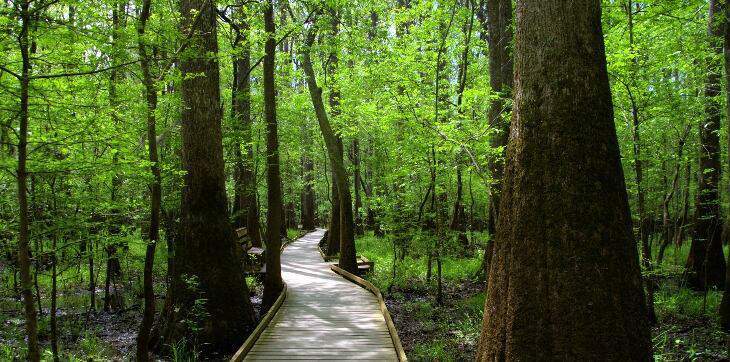 If you and your dog want to see the southeastern United States' natural beauty in its purest form, Congaree National Park in central South Carolina is the spot for you. Not only are dogs welcome on all trails and in all campgrounds, but you will both see amazing views of some of America's tallest trees east of the Mississippi River. Waters flow from the Wateree and Congaree Rivers through this 41 square-mile national park, adding to its peaceful beauty. Ticks are common in the park, so be sure to thoroughly check your pooch when you leave.
Best Rocky Dog-Friendly National Parks
The United States is home to some of the world's most iconic rocky landscapes. Human and doggy adventure seekers will love these rugged trails!
Grand Canyon National Park (Arizona)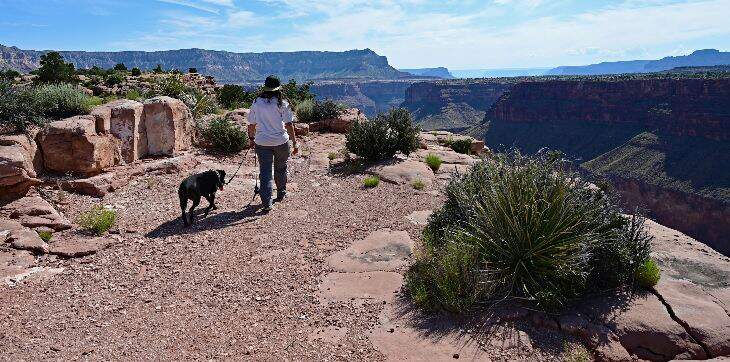 Speaking of iconic rocky landscape, Grand Canyon National Park is among the most famous natural landmarks in America. This 1,900 square-mile park in northern Arizona was formed by the Colorado River over millions of years of erosion, giving it layers of beautifully colored rock and a one-of-a-kind shape.
Your furry friend is welcome on trails above the South Rim and along the bridle trail on the North Rim, as well as some campgrounds. Remember to bring plenty of water, as the canyon's climate can be exceptionally hot and dry.
Bryce Canyon (Utah)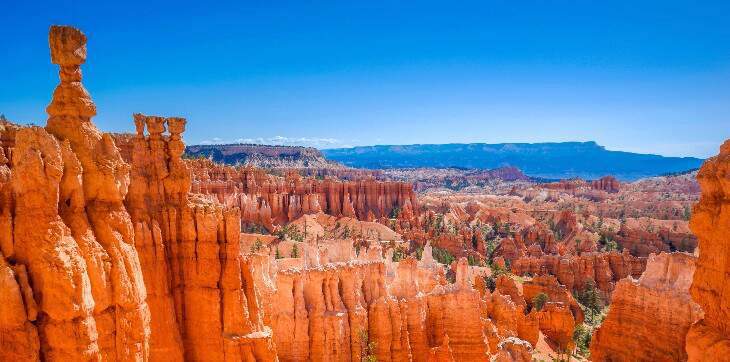 Some of geology's most marvelous wonders come together at Bryce Canyon National Park in southern Utah. This 56 square-mile park is known for its tall, oddly shaped rock formations called hoodoos, which were formed by erosion.
Dogs are allowed on paved surfaces in the park, including campgrounds, almost all viewpoint areas, and paved trails. For picturesque views of the canyon, head to Shared Use Path with your Cadet and look out from Inspiration Point. Here, you will see a slew of hoodoos from above that are sure to leave you inspired!
Badlands National Park (South Dakota)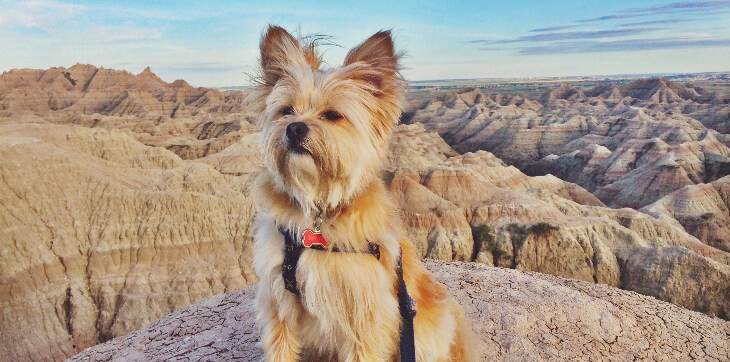 While you may associate the southwestern United States with rocky trails, Badlands National Park in South Dakota offers a similar rustic landscape. With fascinating geological deposits, this park is home to one of the world's richest fossil beds, according to the National Park Service. The Badlands are also home to remarkable eroded buttes, which are steep hills that often have vertical sides (similar to mesas or plateaus).
Your dog can accompany you in developed areas, including campgrounds, picnic areas, and paved roadways. Although pets are not allowed on hiking trails, you and your pooch can still catch great views of the buttes and prairies.
Best Sandy Dog-Friendly National Parks
You don't need to travel to the coast to enjoy some warm sand! All three of our favorite national parks for dogs are located in the interior of the United States, providing a unique beachy feel you and your dog will cherish.
Indiana Dunes National Park (Indiana)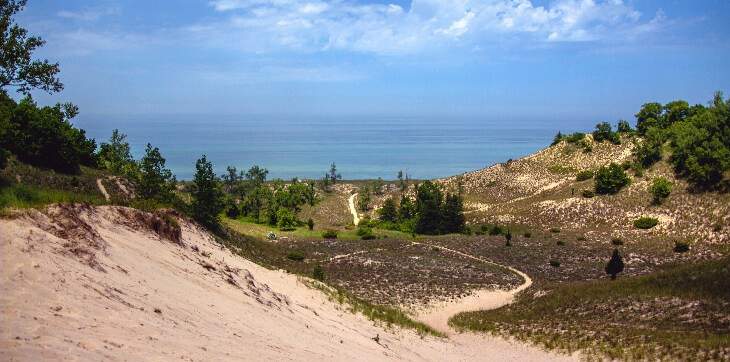 There are countless beautiful beaches along the Great Lakes, and Indiana Dunes National Park in northwestern Indiana is no exception! Adjacent to Lake Michigan, this park's beaches cover 15 miles—and dogs are allowed on almost all of them!
Take your furry friend for a swim anywhere except the lifeguard swim area at West Beach, and feel free to check out the dog-friendly hiking trails where you will find dunes, wetlands, prairies, and rivers. You can even enjoy looking out for some rare bird species together, including Marbled Godwit and Loggerhead Shrike.
White Sands National Park (New Mexico)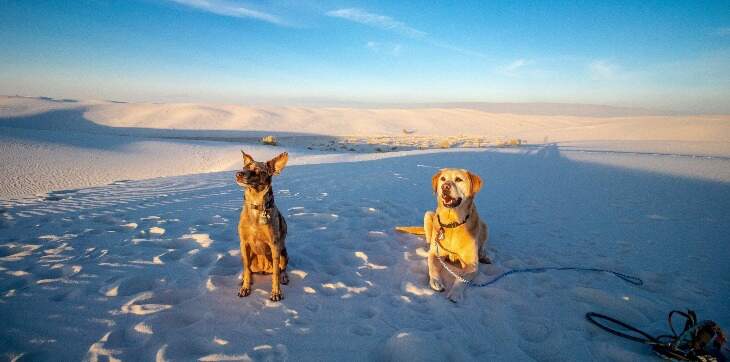 The "sand" at White Sands National Park is actually gypsum, a soft mineral commonly used in chalk and drywall. This southern New Mexico park's glistening gypsum sand has formed enormous dunes that cover 275 square miles of desert, making it the world's largest gypsum dunefield, according to the National Park Service.
Dogs are allowed throughout the park, giving you and your adventure buddy nearly ten miles of trails to explore. Best of all, gypsum sand stays cool throughout the year and will not burn your dog's paws like regular sand.
Great Sand Dunes National Park and Preserve (Colorado)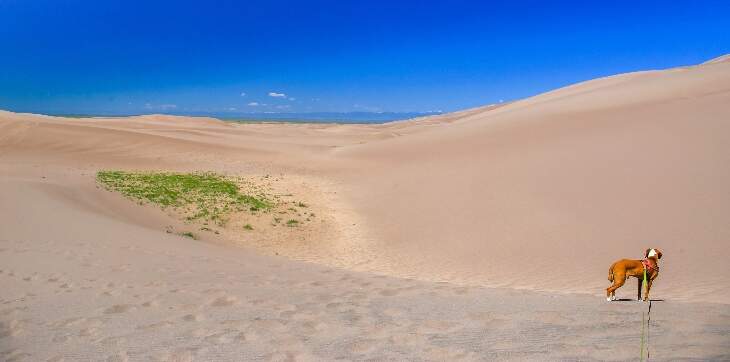 A spacious national park for dogs, Great Sand Dunes National Park and Preserve in southern Colorado contains dunes, wetlands, grasslands, alpine lakes, forests, and even tundra. Your dog is permitted in the Preserve and main use areas, which include locations such as Piñon Flats Campground and Dunes Overlook Trail.
Feel free to take a dip together in Medano Creek, which is a popular spot to cool off during the high heat. The sand at this park can get much hotter than the gypsum sand at White Sands National Park, so take some paw wax along to help keep your dog from getting burned.
A Trail for Every Tail
Whether your Cadet enjoys sand, rocks, soil, or mountains under their paws, it won't take long to find the perfect national park for your dog. Take some natural dog treats to help your pooch power through the adventure, and invest in a collapsible water bowl to provide them a quick, convenient way to stay hydrated. Happy trails!