4 Natural Dog Treats & Their Benefits
Cadet's natural dog chews and treats are sure to satisfy your dog's innate urge to chew...but did you know they offer a wide range of health benefits, too? It's true! Because many of our high-quality dog chews and treats are made with natural proteins and wholesome veggies, they are a healthy, guilt-free,
sustainable dog treat
option for your best friend.
Learn the exceptional benefits of some of our most popular natural dog treats.
#1: Bully Sticks
Our natural
bully sticks
are made of 100% real beef pizzle and sourced from the best-quality cattle. These savory, single-ingredient chews are not only delicious, but they're high in protein—an essential macronutrient. The amino acids within protein may support various aspects of your dog's wellbeing including their skin & coat, immune system, and muscle development.
Containing no artificial colors, additives, flavors, or preservatives, Cadet's highly digestible bully sticks are also low in fat. Low-fat dog treats and food can be great for maintaining your furry friend's recommended weight or helping
manage dog obesity
, making them ideal for those who need to lose a few pounds, according to
Rover
.
#2: Sweet Potato Steak Fries
There's just one ingredient in our appetizing
Sweet Potato Steak Fries
: 100% real sweet potato! Supporting overall wellness, these low-fat dog treats are rich in vitamins and antioxidants.
According to
Medical News Today
, sweet potatoes are known to improve digestion, protect eye health, boost immunity, and reduce the risk of obesity, among other amazing things. They're one of the
best human foods for dogs
, packed with plenty of fiber and potassium. We even pair this satisfying root vegetable with other fan-favorite flavors in several of our premium treats!
#3: Pig Ears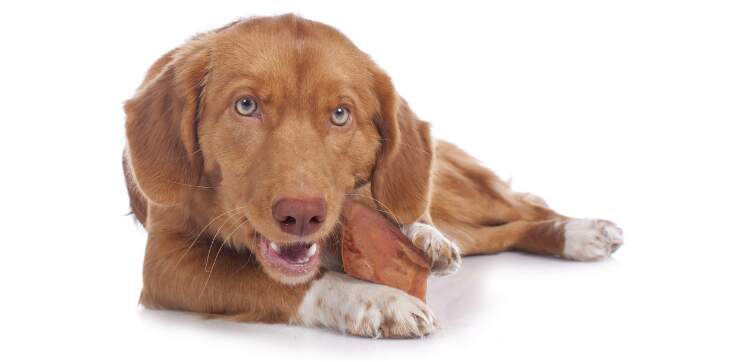 Our protein-packed
Pig Ears
are oven-roasted to bring out the naturally delicious, meaty flavor dogs can't resist. Made of 100% real pork, these long-lasting dog treats are specially crafted to satisfy your furry friend and keep them busy. As your dog chews, our pig ears also promote oral health by helping to clean teeth and gums—just like many of our other products!
Chew treats that are good for your pet's dental health come with numerous advantages, according to
Herschel Animal Clinic
. Some of these advantages include loosening food debris and stimulating the production of saliva to neutralize and fight plaque acids that cause tooth decay. In addition, the action of chewing helps fight boredom and provides mental stimulation for your pup.
#4: Beef Esophagus
Natural dog treats made of 100% real beef esophagus, such as our long-lasting
Beef Strips
, are a highly digestible and nutritious option for rewarding your best friend. As with other natural beef chews, esophagus is a low-fat, high-protein option that dogs love and pet parents can feel good giving. Plus, beef esophagus contains naturally occurring chondroitin sulfate. This substance is found in animal cartilage and helps support hip and joint health.
Bonus: Beef Hide Chews
While not considered a treat due to their extra long-lasting nature, our Beef Hide chews still have terrific health benefits! Made of 100% real beef hide and sourced from premium-quality cattle, these safe, single-ingredient chews contain naturally occurring collagen for dogs. A protein integral to the body's structure, collagen can be thought of as the glue that holds the body together.

As your pup ages, their collagen production slows. Dog chews containing collagen may help to reduce age-related problems by providing strength and elasticity to your dog's skin and ligaments, along with much of the rest of their body, according to PetMD.
→ RELATED: What is Rawhide? Everything You Need to Know
A Choice for Every Cadet
From promoting healthy chewing habits to providing nourishment, there are many great reasons to choose natural dog treats for your best friend. Consider the ingredients and benefits of each treat you offer your Cadet to keep them feeling their absolute best!