Are Bully Sticks Safe for Puppies?
As a new puppy parent, you're likely in search of the best natural treats to provide your furry companion. You've heard bully sticks are a popular option that dogs go wild for, but can puppies enjoy these delicious chews, too? The answer is yes; bully sticks are safe for puppies who are over five pounds and have all their adult teeth (which is typically by six months of age, according to the
Veterinary Centers of America Inc.
).
So,
what are bully sticks made from
? These natural chews are made from just one ingredient: beef pizzle. They are an excellent reward for growing pups and adult dogs alike because they are easily digestible, high in protein, and low in fat. In addition, bully sticks help clean teeth as dogs chew and are long lasting to keep furry friends busy.
Discover how to choose, feed, and supervise your puppy while they enjoy bully sticks—ensuring a safe, happy chewing adventure!
Choosing Bully Sticks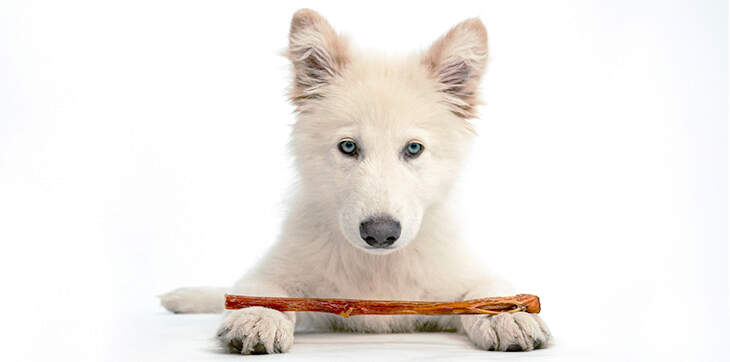 Once you determine that bully sticks are safe for your puppy, the next step is to find a high-quality option. Look for premium bully sticks made from the finest-quality cattle and free of artificial colors, fillers, and flavors. Cadet® Bully Sticks check all these boxes—and they're oven-roasted to bring out the natural savory flavor dogs love!

Bully sticks can range in size, so you have options in selecting the best, most manageable size for your best friend. For example, our x-small bully sticks are a great choice for smaller dogs weighing less than 10 pounds.
Feeding Bully Sticks
Initially, only let your pup chew the bully stick for about five- to ten-minute periods. As with any high-protein chew, it's important to see how they affect your puppy's developing digestive system. If your puppy handles the treat fine, continue to increase the amount of time they chew.
Also keep in mind that puppies can have bully sticks in moderation; they're intended to be given as a treat—not a replacement for dog food. Because bully sticks are an addition to your furry friend's diet, stay mindful about how many calories your puppy consumes and talk to your veterinarian about recommended caloric intake to avoid overfeeding your pup.
Supervising Chewing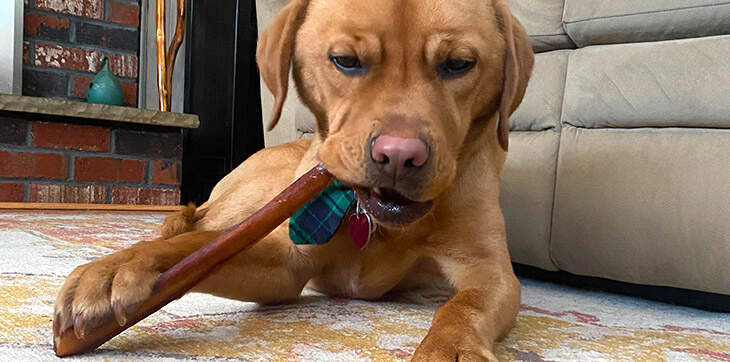 Always supervise your four-legged friend while they are enjoying a bully stick to ensure they don't bite off pieces too large to swallow. Additionally, take your pup's chew away when there is only a short amount left; this will ensure they don't get excited and gulp the last small part. You can even find bully stick holders, which are devices designed to help prevent pups from accessing the last few inches of the bully stick. As always, be sure to supply your dog with plenty of fresh water as they chew.


Providing Your Growing Pup Healthy, Safe Rewards
Now that you know when puppies can have bully sticks and tips for safe treating, you can feel good about rewarding your dog—and your best friend will be delighted to enjoy a savory snack!

Looking for more helpful tips on puppy care? Discover dog obedience training for beginners.