Bully Sticks Vs. Rawhide: How Are They Different?
Few natural dog chews are as popular as rawhide and bully sticks! Because they offer a similar array of benefits and are both typically derived from cattle, pet parents often wonder: Are bully sticks rawhide?
They may seem alike, but bully sticks are not rawhide and are in fact quite different in how they're sourced and prepared. Keep these key differences of bully sticks vs. rawhide in mind the next time you're shopping for your Cadet.
What Are Bully Sticks?
Bully sticks are made from beef pizzle. They're cleaned, cooked, and cut to size before making their way to the shelf, where you can find them in a variety of shapes and sizes. Because bully sticks are an all-natural product, their thickness, color, and length may vary within the same package.
So, why do dogs and pet parents agree bully sticks are an excellent option? For starters, they contain savory flavor that lasts and lasts while pups chew, keeping them happy and occupied while they enjoy their tasty reward. They are also high in protein, low in fat, and highly digestible for a healthy and safe chewing experience. Bully sticks are safe for puppies, too, as long as they weigh over five pounds and have all their adult teeth.
Not all bully sticks are created equal! Look for varieties that are sourced from grass-fed, free-range cattle and do not contain any preservatives.
What Is Rawhide?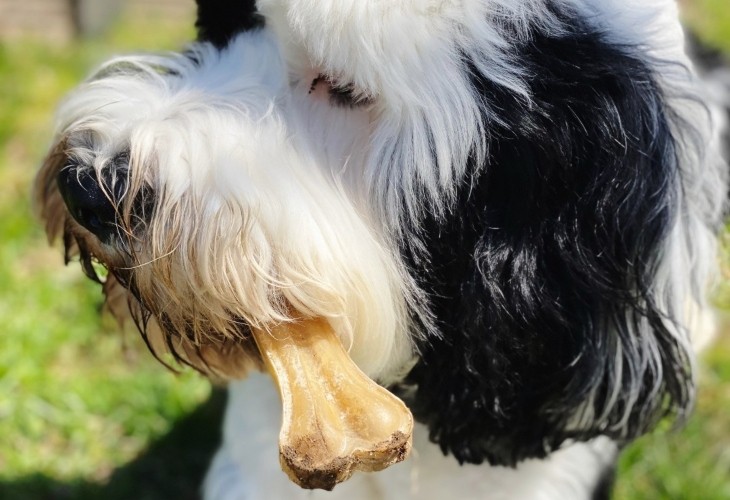 Rawhide is dehydrated animal skin that has not been exposed to tanning. It's often made from cattle hide (also known as beef hide), but rawhide can also be sourced from other animals such as pigs, deer, or buffalo. Rawhide usually has an inner layer and an outer layer; the inner layer tends to be used for traditional rawhide chews, while the outer layer may be tanned and used for garments and upholstery.
Many dogs love rawhide's natural flavor, but you can also find varieties that are basted with beef, chicken, or even peanut butter flavor for a little extra zing. Rawhide is good for dogs who enjoy a range of textures and shapes—knotted bones, braided donuts, and retriever rolls are just a few of the many intriguing choices available.
While rawhide is considered digestible, there are also easily digestible rawhide options available that soften faster while still offering long-lasting satisfaction. No matter what kind of chew you give your dog, always supervise them while chewing and make sure they don't bite off pieces too large to swallow.
What Do Bully Sticks and Rawhide Have in Common?
Both of these long-lasting chews provide a healthy way to satisfy your dog's natural chewing instinct, giving them a delicious alternative to munching on furniture or your belongings. Plus, they promote dental health by scraping away plaque and tartar from your dog's teeth as they chew. All in all, you can't go wrong with either of these single-ingredient chews!
Combine the Best of Both Chews!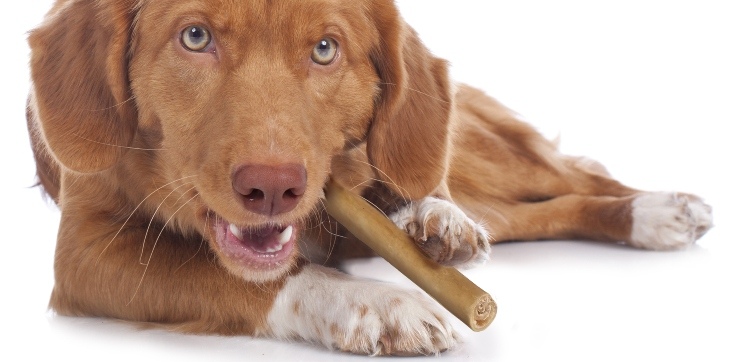 Now that you know all about bully sticks vs. rawhide, you can offer your dog all their amazing benefits in one savory chew. Cadet® Bully Hide Sticks feature the bold flavor of bully stick and the long-lasting quality of beef hide. These one-of-a-kind chews are made from real bully stick and the top layer of beef hide—the finest, most flavorful cut of rawhide available. They're then rolled into a stick shape and oven-roasted to perfection.
Bully Hide Sticks are more digestible than traditional rawhide yet keep even the heaviest chewers occupied. Plus, they're rich in collagen, a protein known to aid skin and coat health.
Other Great Natural Chews
Bully sticks and rawhide are good for dogs…and they're just two of the many wholesome natural chews dogs crave! Mix up your four-legged friend's chewing-and-treating routine with these other scrumptious choices.
Piggy sticks – Highly digestible piggy sticks are an excellent chew for dogs who appreciate pork or have beef sensitivities.
Pork hide – Another delicious beef alternative, pork hide is a form of rawhide that offers the same long-lasting satisfaction.
Beef esophagus – Chews containing beef esophagus help support hip and joint health while delivering that quintessential meaty flavor dogs desire!
Shin bones – Not only are shin bones for dogs incredibly long lasting, but they are also often stuffed with tasty flavored fillings such as beef, cheese, or peanut butter.
Pig ears & cow ears – Both cow ears and pig ears are good for dogs who love big flavor and a unique texture.
All these treats are sure to please any pooch, but have you ever wondered what makes them so appealing? Find out why dogs like bones and other natural chews.